If you manage a warehouse or packaging operation in the food and beverage industry, you've certainly been impacted by the exponential increase in plastic packaging costs.
In fact, all packaging associated with food and beverage - primary, secondary and tertiary - has increased in price and scarcity.
In this blog, we'll examine the reasons behind the increase in cost and discuss some possible solutions.
So, why has plastic transit packaging increased in price?
There are two main reasons why the packaging used in the food and beverage industry has increased, and the first feeds into the second:
Scarcity of raw materials

Supply issues
Let's explore both in more detail.
Scarcity of raw materials
Crude oil, used to make plastic, is currently extracted from some locations where political and societal instability may be present or increasing. This instability means oil is more challenging to extract, making it more expensive.
Also, other geopolitical climates in Europe are limiting and disrupting the flow and price of raw materials. These two issues, combined, mean those who work with plastic packaging are feeling the pinch.
The demand for recycled plastics in manufacturing has also risen recently, partly through demand for positive environmental change and partly because of the Plastic Tax. This increase in demand makes any packaging made with recycled materials more expensive for consumers in the food and beverage industry.
Supply security
We're sure you've noticed just how difficult it can be to get your hands on your warehouse consumables, especially at a good price.
Here are the biggest reasons why supplies are so stretched:
COVID-19
During the pandemic, logistics networks faltered, affecting raw material to the extruder and the extruder to the distributor. Moving things around became more difficult and much more expensive; this has only been compounded by fuel prices rising to close to 200p per litre.
Covid-19 also saw HVG driving professionals reapplying their skills into local delivery. When the demand for HGV drivers rose, there was a shortage - increasing the price of plastic packaging through rising delivery costs.
Procurement habits
Scarcity of supply has meant that customers are placing bigger orders, often with multiple suppliers, to guarantee their operations continue smoothly. Before 2019, it was common for our customers to order for the following month; now, our order book is full until the end of the year. Put simply, purchasing packaging has become strategic, not transactional, creating a vicious circle.
As demand is outstripping supply, the fear of being left short causes food and beverage companies to buy increased quantities from different sources, further reducing supply and making the issue worse.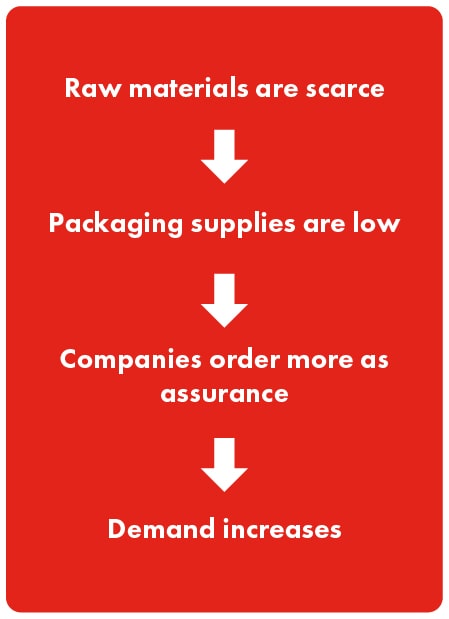 The Plastic Tax
When the Government introduced the Plastic Tax, businesses could either pay the tax or choose plastic packaging containing a minimum of 30% recycled content.
When increasing numbers of food and beverage firms opt for recycled packaging, the demand for recycled polymers increases, driving up the overall cost of recycled plastic.
Currently, the demand for high-quality recycled plastics far outweighs the available supply at present. Because of this, implementing a Plastic Tax exempt solution might not show any immediate financial benefit.
What are the impacts for food and beverage companies?
For businesses
If you buy plastic transit packaging in the food and beverage industry, your costs would've increased significantly.
Despite our best efforts to keep prices low for our customers, some of our most commonly purchased products, like stretch film, have been hit with a 70% increase in cost from our end. Unfortunately, this means that increased plastic prices hit the food and beverage companies we sell to.
UK food and beverage businesses will have to factor supply-chain price increases into their overall costs. Overhead has, and will, increase.
For final consumers
Just as rising plastic packaging costs affect the companies we sell to, the end-users of those companies will also be affected.
While the problem is certainly nuanced, we've all seen supermarket prices skyrocket in the last six months - plastic packaging is certainly a contributing factor.
Customers have seen significant price increases as inflation, and worldwide logistical costs have continued to grow.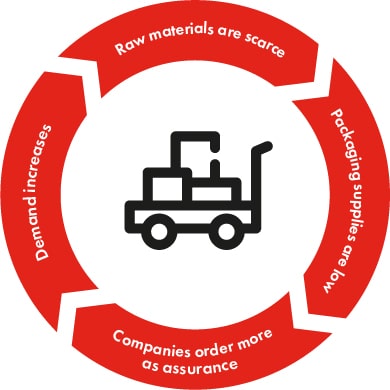 So, how do we solve these increased packaging costs?
We recommend that every food and beverage company seeks operational changes that reduce packaging consumption.
The reasons why packaging costs more is, unfortunately, out of our control. But, we can control how much packaging we use in our warehouses.
Many UK-based food and beverage companies have already taken action to minimise the impacts of rising costs, such as:
Using less plastic to do the same job - check out our comparison between plastic reducing film and recycled plastic film to find out more.

Investing in automation, such as pallet wrapping machines, can lower costs through increased efficiency.

Choosing plastic alternatives for some packaging applications, such as paper.
How can packaging innovations help?
British food and beverage firms looking to nullify the impacts of rising packaging costs should speak to experts in packaging reduction.
Because we care deeply for our planet and your wallet, our goal here at Packaging Innovations is to provide our partners with the most efficient packaging solutions possible.
Book a call today with one of our experts to see if we could save you money.
looking to find out more?
We've helped our clients reduce their plastic consumption by up to 60%.
Our guide to the Plastic Tax has everything you need to know.