Helping your people work more efficiently.
People are the most critical asset in your business - we value their time as much as you do. That's why we source the best packaging materials for easy pallet wrapping.

We offer your operators an optimised solution - our plastic wraps more, with less.

When investigating your wrapping and film needs, we prioritise the time used by the people in your business. Our products are thinner, stronger, and require less rotations to secure a pallet. Your staff can find increased efficiency with our packaging: fewer reels, fewer reel changes.

These efficiencies directly impact your yields, too. Our partner gained over five additional weekly production hours solely from reel change reduction. Read the case study here.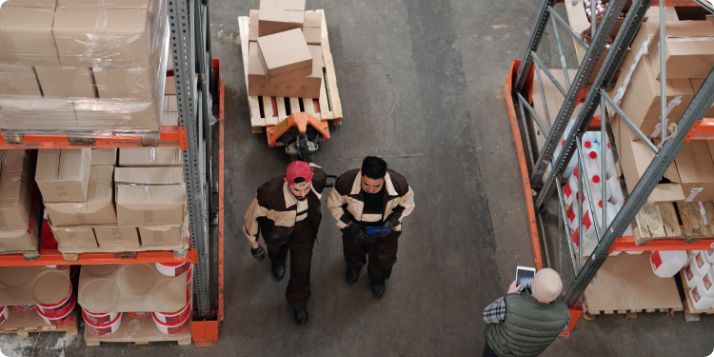 Safer staff, faster workflow.
We are always looking to help those wrapping pallets work safer and faster.

Warehouses across the country see high absence and injury rates, especially from back pain. Our robust packaging materials are safer to work with, resulting in fewer workplace accidents and damaged materials.

Traditional hand wrapping could be upgraded to a dispenser or machine-based solution for a genuinely people-first approach, further reducing injury and production outages.

Our dispensers help your people work smarter, not harder. Our Lite Wrapper provides fantastic benefits:
Better spatial awareness and safety - with Lite Wrapper, you walk forwards not backwards to wrap pallets.
Minimal bending - reduce bending down to wrap the bottom of the pallets.
Controlled tension - each pallet is wrapped consistently regardless of the physical strength of the operator.
Subscribe to our newsletter
Get the all the latest and greatest articles, new products, deals, discounts and much more from delivered straight to your inbox.